On World Women's Day, reports of repression, torture and imprisonment of women who are in Syria under the bloodthirsty dictatorship of Bashar al-Assad are very uncomfortable.
This dictatorial regime, such as its supporter in the region, the religious and criminal dictatorship of the mullahs in Iran, whose main nature is their misogyny idiology, continue to the inhumane punishments against the Syrian liberators women.
The official website of the People's Mojahedin Organization of Iran (PMOI/MEK) has reported on the situation of Syrian women, quoting Syria's network of human rights, to find out about the status of Syrian women and efforts to support them.
Syrian Network for Human Rights calls for the release of all detained Syrian women
March 9, 2019 – The Syrian Network for Human Rights on Friday, March 8th issued a statement to mark the Women's Day calling for the release of 7,721 women who have been detained by the Assad regime.
The statement reads: "sexual exploitation of female inmates in prisons is continuing. At least half million people including 13,500 women are held in Assad's notorious prisons."
Syrian Network for Human Rights said many dissidents in Assad prisons have been either killed under torture or have been executed.
Syrian Network for Human Rights is an independent, neutral, non-governmental, non-profit human rights organization, which aims to document the ongoing human rights violation in Syria.
Read more:
Orient News reported on March 9, 2019, that thousands of demonstrators took to the streets on Friday (March 8) in Aleppo countryside, calling for the immediate release of women detainees at the Assad regime's detention centers.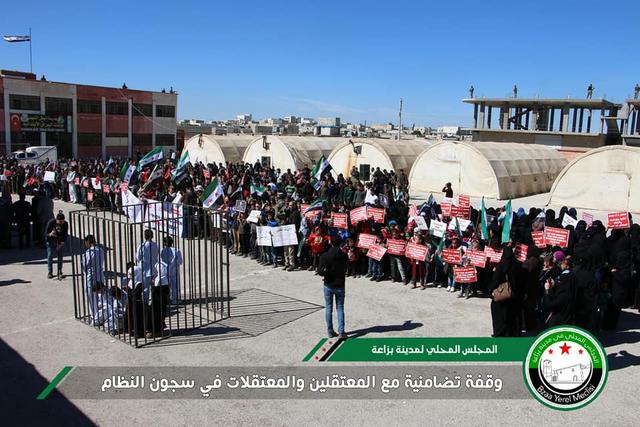 Thousands demonstrated to demand the freedom of detained women in Syria
On the International Women's Day (IWD), the demonstrators in several cities, towns, and villages in Aleppo countryside, stood in solidarity with women in Assad's detention centers, calling for the release of detainees at the Assad regime's centers, especially women and children.
Friday's demonstrations were organized in support of the Conscience Movement, an alliance of individuals, rights groups and organizations who demand the release of women and children from the jails of Assad regime.
The demonstrators called on the international community to force the Assad regime to release the detainees in its prisons.
A child raised a placard which read: "On the International Women's Day, where is my mother? where is my sister?"
Free all women and children from Assad's prisons
Other demonstrators raised the names of their relatives and the year at which they were arrested.
Significant participation of women and children was noted in the demonstrations, according to Orient correspondents.
According to the Conscience Movement, more than 13,500 Syrian women have been incarcerated since 2011, while more than 7,000 women remain in detention where they are subjected to all forms of torture.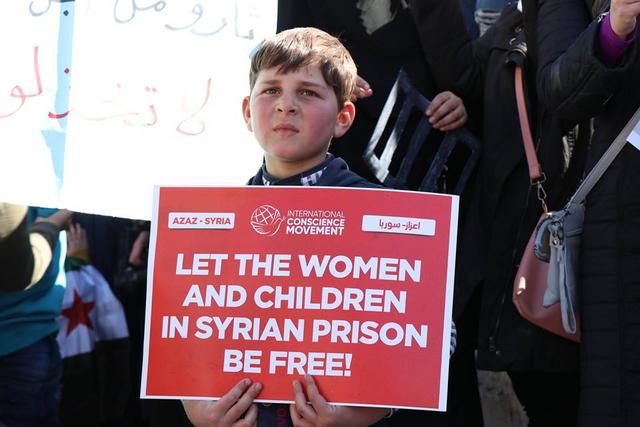 Free all women and children from the Assad regime's prisons