After 30 years of the terrible massacres of Iranian political prisoners in 1988, the extent of this catastrophe and the great crime against humanity has not yet been fully revealed. In this terrible massacre of more than 30,000 political prisoners, most of them were members and supporters of the PMOI/MEK, they were executed in a short time for being guilty of loyalty to their beliefs, ruthlessly by the mullahs regime and based on an anti-human fatwa of Khomeini.
It is imperative that all human rights defenders in the world and all opponents of executions join the movement seeking justice for victims of the #1988Massacre, to bring the perpetrators of this great crime to justice. The executions of that massacre still in Iran are at the head of the highest government and judicial authorities and have not yet been accounted for by their crimes.
In the highly informative article published on the website of the PMOI, it once again focuses on other dimensions of this major anti-human crime.
I invite you to read this article.
Iran, March 4, 2019 – Mostafa Pourmohammadi, former judiciary minister in the cabinet of Hassan Rouhani, President of the mullahs' regime in Iran, has acknowledged his crimes during the horrendous summer 1988 massacre of over 30,000 political prisoners. The majority of the victims sent to the gallows during in this crime against humanity were members and supporters of the Iranian opposition People's Mojahedin Organization of Iran (PMOI/MEK). Pourmohammadi was a member of the notorious "Death Commission" that sent the political prisoners to their deaths.
"This is an active case. This dossier is now very much alive and the enemy has invested on this issue. And now, discussing this matter would be playing into the enemy's hands. That is why I haven't talked about this subject. I don't know when it would be proper to talk about this matter… and unfortunately, the publication of that tape was literally an act of treason," Pourmohammadi said in a state TV interview on Friday night. He was referring to the publication of a tape of remarks made back in 1988 by Grand Ayatollah Hossein Ali Montazeri, the then successor of regime founder Ruhollah Khomeini, who criticized the regime's genocide in prisons throughout the country.
"… it was a betrayal to the revolution and [Khomeini], and even to Mr. Montazeri. Mr. Montazeri made remarks, good or bad, wrong or whatever. He made a decision. That meeting and the publication of those remarks led to Mr. Montazeri's sacking. When people make stupid decisions, seeking to take revenge, they become blind, and can no longer determine what is right or wrong," he added.
"Well, I defended [Khomeini's] move. We had a mission in regards to the [PMOI/MEK], back when I was the Revolutionary Court prosecutor. I issued many indictments against the [PMOI/MEK] and sent it to the court. Many of them were condemned, many were executed and many other verdicts," Pourmohammadi continued.
"Some of the men and others, and reporters, have sought to ask me questions. I have answered that I do not play into the enemy's hands. Unfortunately, one of the unwise insiders was provoked for an unknown reason and published that tape. There's no reason that we should be deceived by the enemy's plans. We should play into their hands. We have much to say and we will say so when the time comes."
Read more about the 1988 massacre:
More than 30 years ago have gone since the horrific and brutal massacre of political prisoners that was carried out in just one short summer by the criminal mullahs ruling Iran.
In the summer of 1988, the clerical regime summarily and extra-judicially executed about 30,000 political prisoners held in jails across the country. This heinous massacre was carried out upon a fatwa by the Islamic regime founder, Ruhollah Khomeini.
There are strong indications that Khomeini's fatwa was issued on July 26, 1988.
The Iranian regime has never acknowledged these executions, or provided any information as to how so many prisoners were killed in a matter of just a few months.
The majority of those executed were either serving prison sentences for their political activities or had already finished their sentences but their time in jail was extended.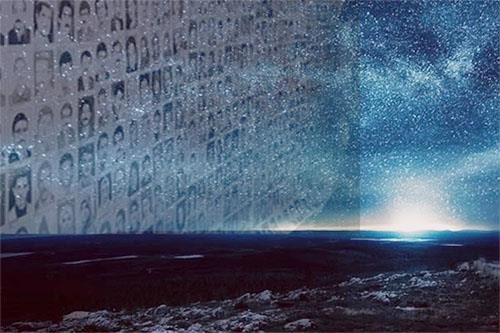 Some of them had previously been imprisoned and released, but were re-arrested and executed as part of this heinous massacre.
The wave of executions of political prisoners began in late July and continued unabated for several months.
By the time it ended in the early autumn of 1988, some 30,000 political prisoners, the overwhelming majority activists of the People's Mojahedin Organization of Iran (PMOI or MEK), were slaughtered.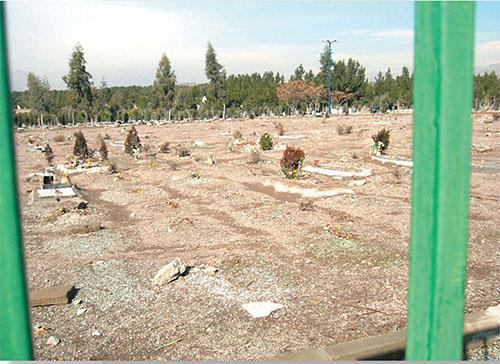 A site of a mass grave for some of the victims of the 1988 massacre of political prisoners in Iran
The events that led to this incomprehensible and unseen brutality
From 1981 to 1987 – Thousands and thousands of Iranian activists, mainly youth, were arrested and tortured for opposing the regime's brutal grip on power and for supporting the People's Mojahedin of Iran (PMOI, MEK). Interrogators threw political prisoners on torture benches, tearing them apart to destroy their wills and hearts. Young girls and boys were indiscriminately tortured and executed with no mercy. Women and men were beaten to death. Virgin girls were raped the night before their execution to supposedly prevent them from going to the heavens. Mothers were tortured in front of their children or children in front of their mothers to break their will. Wives were raped in front of their husbands, sisters in front of their brothers. They had to choose between repenting or suffering the doomed destiny.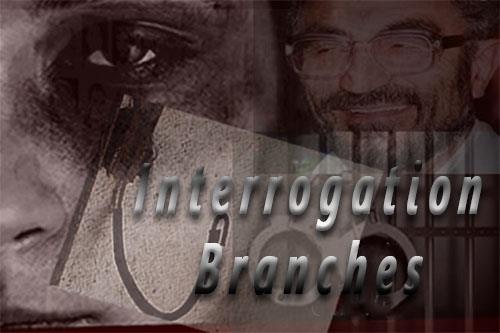 Paving the way for the unholy massacre
In the final phases of the Iran-Iraq war, Khomeini who felt that defeat was imminent, decided to take his revenge on the political prisoners. Most of the prisoners from that period of time who lived through to tell their ordeal, know that the regime was preparing all along for an extensive massacre from the onset and the first step of this diabolical scheme begun in the fall and winter of 1987.
The regime started to sort and separate prisoners all over the country. The only thing that distinguished the prisoners was their political affiliation, whether they had repented and denounced the MEK, or they showed commitment to the only Nationwide Resistance against the mullahs, the MEK. Khomeini issued fatwas (religious decrees) ordering the execution of anyone who had not "repented" and who was not willing to collaborate entirely with the regime.
Many memories of those who survived that horrific ordeal and are alive now are as vivid as black and white. In one instance, according to one survival, it was in the afternoon of a March day in 1988 that Majid Sarlak, an interrogator and torturer in the notorious Evin Prison, barged in to the women's ward looking anguished and carrying bunch of forms and applications. He told the prisoners that "the sentence for those who continue their pledge to 'Mojafeghin' (the regime's derogatory term to describe the PMOI/MEK) is execution. "You have lived too long", he shouted "and now the time has come to take care of you."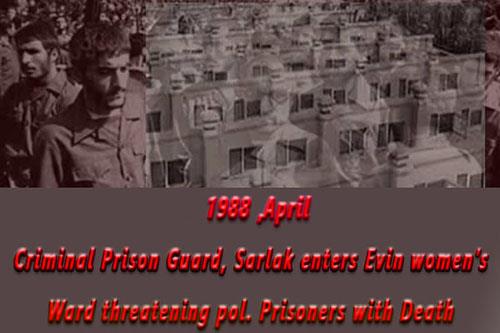 The executions started from Evin Prison, because almost all those with death sentences were kept in Evin and most of the life sentences were in another horrifying prison, called Gohardasht. Among those who were transferred from Gohardasht to Evin, were many that had already finished their sentence and were kept in prison extra time. But this didn't end in Evin, and soon included other prisons, i.e. Gohardasht, Qezelhesar and other prison in the entire country.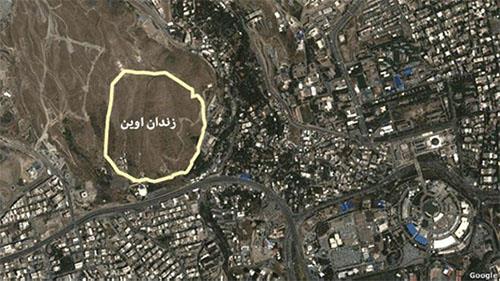 Mass executions of prisoners in 1988 begins with Khomeini's death decree
The massacres began, and everyday hundreds of political prisoners were sent to the gallows and their corpses buried hastily in mass graves all around the country, particularly in the capital Tehran.
Khomeini decreed: "Whoever at any stage continues to pledge legions to the [Mojahedin] must be executed. Annihilate the enemies of Islam immediately." He went on to add: "… Those who are in prisons throughout the country and remain steadfast in their support for the MEK/PMOI are waging war on God and are condemned to execution… It is naive to show mercy to those who wage war on God."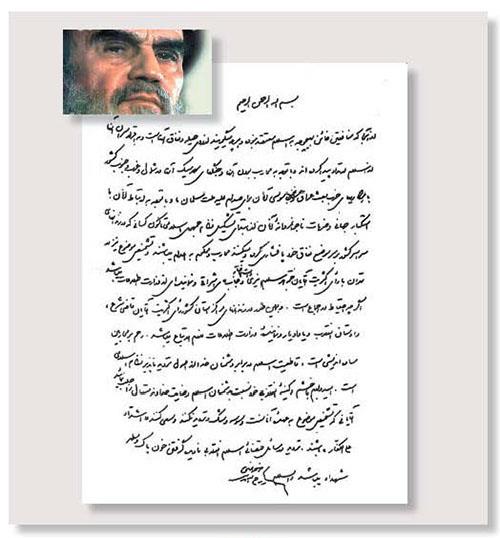 But in other cities and towns around the country, the regime was faced with difficulties in mass executing prisoners. Unlike Tehran which is a large city and things happen normally without much notice, other cities are relatively smaller and if the regime had begun mass killings, people would soon notice and would spark unrest and even uprising. So the evil clerical regime started to move prisoners from smaller towns and cities to the capital and some to faraway destinations to avoid unrest. Therefore, prisoners were moved in hundreds to Gohardasht, Evin and other prisons.
Parviz Mojahednia, a young male prisoner who was arrested while still a teenager, called his mother before being transfered to Tehran telling her that "They are moving us out of here to be executed soon."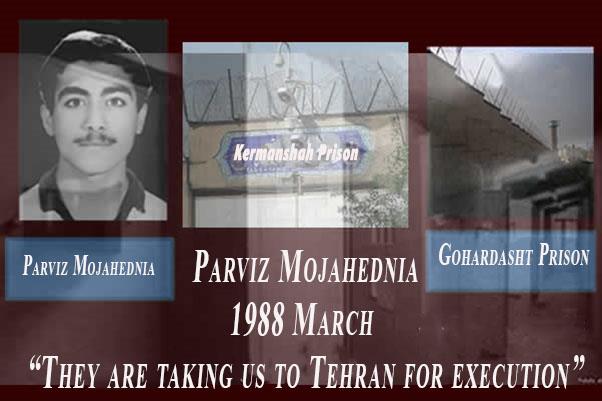 One report revealed that a few days after July 18, 1988 seize-fire of the Iran-Iraq war, a number of young female political prisoners including, Farah Eslami, Hakimeh Rizvandi, Marzieh Rahmati, Nasrin Rajabi and Josumeh Heidari were removed from Ilam prison, in western Iran, to the city of Saleh-Abad under the pretext of the previous prison being unsafe for them. But they were executed the following day, of course after they were raped.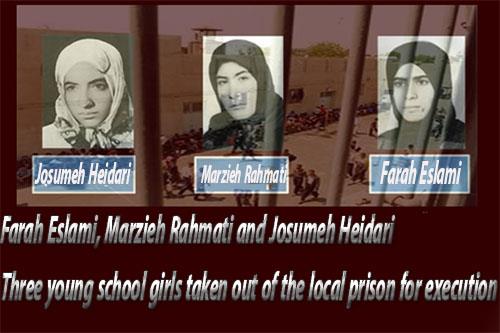 "Death Commission" of 1988 massacre of political prisoners

Main members of the death commission
Khomeini assigned an "Amnesty Commission" for prisons. In reality it was a "Death Commission" comprised of the three individuals: A representative of the Ministry of Intelligence, a religious judge and a prosecutor. The final decision rested with the Intelligence Ministry official. They held a trial for a few minutes that resembled more of an interrogation session. The questions were focused on whether the inmate continued to have any allegiances to the PMOI (MEK). The PMOI prisoners made up of more than 90 percent of those taken before the "Death Commission." If the prisoners were not willing to collaborate totally with the regime against the PMOI, it was viewed as a sign of sympathy to the organization and the sentence was immediate execution. The task of the Death Commission was to determine whether a prisoner was a so-called "Enemy of God" or not. In the case of Mojahedin prisoners, that determination was often made after only a single question about their party affiliation. Those who said "Mojahedin" rather than the derogatory "Monafeqin" were sent to be hanged.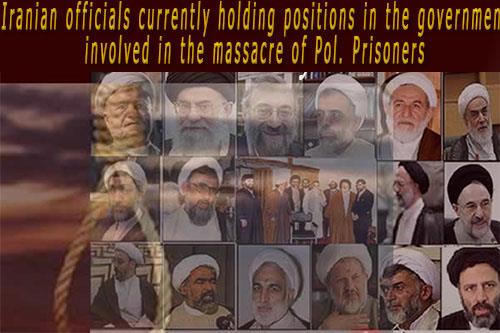 Khomeini's successor protested the wildly rush of executions of prisoners in 1988 massacre
The haste to execute was so abhorrent that some of Khomeini's closest confidantes, most notably, Ayatollah Hossein Ali Montazeri, Khomeini's successor, had doubts and protested it. In letters to Khomeini, Montazeri urged for some leniency and slowing down. But Khomeini ordered there should be no mercy to anyone, including teenagers. He said pregnant women should not be spared or have the chance to give birth to their child and should be executed immediately.
In December 2000, Montazeri published his memoirs. The book revealed shocking documents on the atrocities committed by the clerical regime, none as horrendous as the massacre of 30,000 political prisoners in 1988 on the strict orders of Khomeini.
Montazeri's book was not the first document informing the world of this massacre. News of the carnage had already begun to trickle through the iron curtain of censorship imposed by the mullahs to ensure a complete blackout on their crime.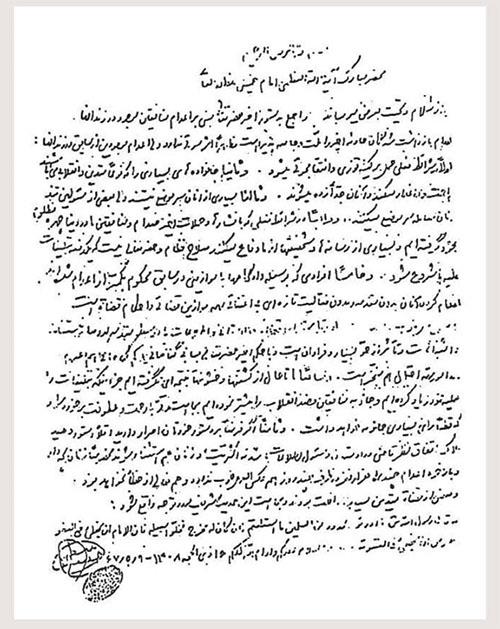 Text of Montazeri's letter to Khomeini on July 31, 1988, complaining that mass execution of Mojahedin (PMOI/MEK) prisoners would only embolden them and enhance their legitimacy and popularity appeal.
Khomeini required total conformity from the regime's officials

All officials of the regime at the time had to conform fully to this massacre or they would be sacked or deposed. Ayatollah Montazeri, who protested the massacre, fell from grace and was sacked by Khomeini in March 1989. Montzaeri's memoirs in December 2000 and its shocking enclosures exposed the horrendous scale of the massacre. What gave weight to the revelations is that they were made by a man who was at the time of the executions the officially ordained successor to Khomeini and the second highest authority in Iran. Yet, when it came to massacring political prisoners, Khomeini showed no mercy to the slightest nonconformity even by his own successor, Ayatollah Montazeri.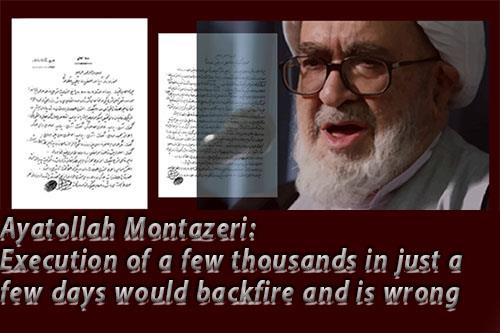 Untold stories of the massacre revealed by witnesses
"Prison officials called a woman in the city of Zanjan, northwestern Iran and told her that your son has been freed, come and take him. The woman was so happy and jubilant that called her neighbors and friends, barrowed a car and decorated it with flowers and pictures of his son. She wore her finest dresses and gathered everybody and prepared a homecoming party for her dear son to come home. She went to the prison where she was told to go to pick up her son. But in a bitter and horrific shock, saw a bag of clothing belonging to her son and an address where the boy was buried. When she went back home where the family and friends were impatiently waiting to see the freed man, the homecoming turned to mourning. It is said that the woman never laughed again and kept crying in silence."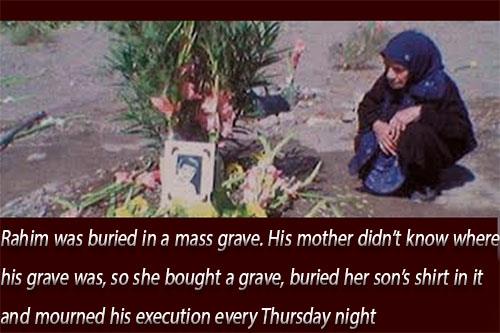 Another story reveals of a young man who was arrested under an assumed name. He never revealed his true identity. This young man's name was Mortaza Tajic. He spent 7 years in prisons under the assumed name and his parents were never able to find him. His father did everything to get a lead as to his whereabouts. In 1986 he openly created a scene to be arrested and sent to the prison so he could find out about his son from inside the prison. But was never able to identify him. Finally in 1988 Mortaza was executed under that assumed name of Mojtaba Hashem-Khani, and his body was buried in a mass grave never identified by his parents.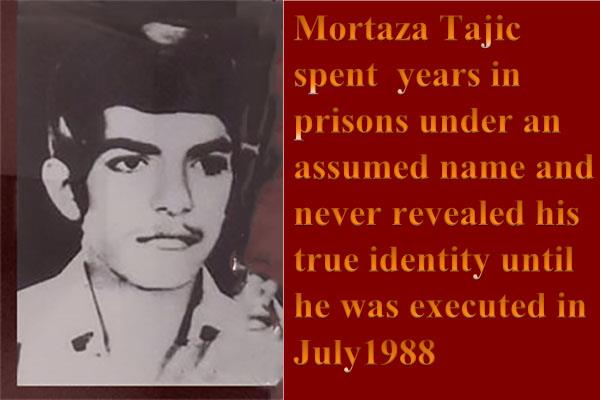 Some prisoners i.e. Taibah Khosrow-abadi, Tahmineh Sotoodeh and Mohsen Mohammad-Bagher were congenitally paralyzed. Shahin Panahi, another young female prisoner had lost a limb. Leila Dashti had brain tumor and was scheduled to be operated on soon. Ashraf Ahmadi, Soosan Salehi and Gholam-reza Mashhadi-Ebrahi had heart disease. But they all were executed despite their disabilities. There were dozens of others like them in the prison which were sent to the gallows.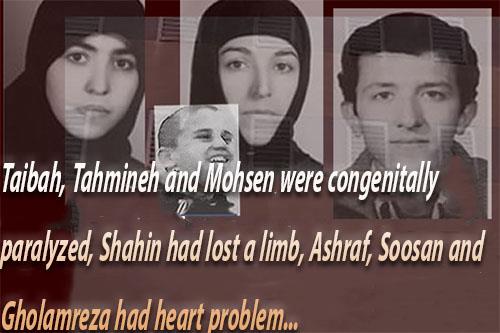 Many students who were taken from their high-school benches to prisons, were finally executed after 7 years of imprisonment. Lives were destroyed, families were torn apart and mothers died after they heard of their loved ones' executions.
Now after 28 years, many families are still searching for peace of mind.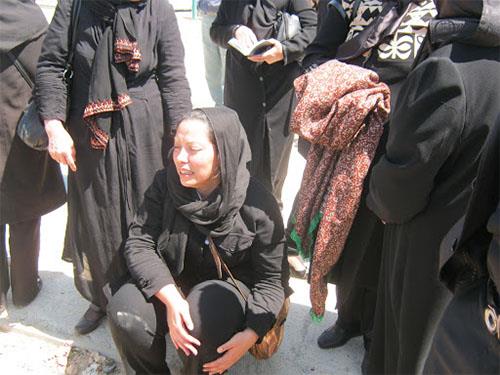 Families of executed pol. prisoners in Iran
From July 27, 1988 to August 16, some 200 prisoners, mainly from Mojahedin, were executed daily. The executions were carried out entirely confidential and without any official announcements. Even the guards were not allowed to contact their families, in order to prevent any leak of the news to the public. But this criminal act did not stay silent and broke out of prison barriers and walls.
In a telegram to the then UN Secretary General, Mr. Masoud Rajavi, the leader of Resistance unveiled the horrific extent of the massacres and told the Secretary General of the 860 corpses that were buried in mass graves in Tehran's cemetery, Behesht-e Zahra, two weeks earlier. A wave of international protests and campaigns were kicked off to condemn these atrocities by the Iranian mullahs' regime. The efforts by the supporters of the PMOI under the leadership of Mr. Masoud Rajavi, and continued protests and demonstrations throughout the world forced the criminal regime to halt the wave of executions in late September, but continued public hanging until the end of that year. Public executions were carried out under the pretext of robbery, smuggling and being bandits, to cover up the real intention of the regime which was to eliminate any dissent. In Tabriz in the winter of 1988 political prisoners were hanged in the city's public squares and often kept on the noose for more than 24 hours to intimidate the public.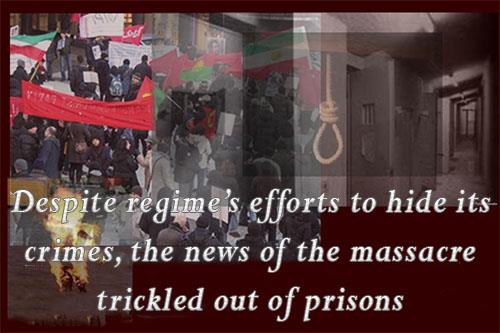 Public and international campaign protests around the world condemning the heinous massacre
To date, there are only a little information about the extent of the massacre, especially in cities, including Isfahan, Shiraz, Rasht, Tabriz, Ardebil, Mashhad, Ahwaz, Abadan, Zahedan, Kerman and other major cities. And information in to the massacre in some other cities are about zero. In some prisons, every one of the prisoners were executed and no one survived to tell the tails of brutality against hundreds of innocent lives.
Undoubtedly, while the dagger of hate and fundamentalism is still in the hearts of a nation, unveiling the true stories and the depth of criminality is almost impossible. But that day will eventually come when writers and historians would talk about what went on in the dark dungeons of Khomeini and what a heavy price this nation paid to keep alive the hope of freedom and human dignity.
Role of Hassan Rouhani in 1988 massacre of political prisoners
Hassan Rouhani was Deputy Commander-in-chief of the regime's armed forces at the time. Furthermore, since 1982 he was a member of the regime's Supreme Defense Council and a member of the Central Council of the War Logistics Headquarters.
In those positions, he was fully cognizant of this hideous crime and obviously was in full conformity. 
This shows that the notion that Rouhani is a "moderate" and "reform minded" is absolutely preposterous and baseless. Actually he, like all other senior officials of the regime, is a culprit of this hideous crime.
International assessment
There has been little international attention to this crime against humanity.In 2008, twenty years after the massacre Amnesty International "renewed its call for those responsible for the 'prison massacre' to be held accountable. There should be no impunity for such gross human rights violations, regardless of when they were committed." Amnesty added: "Those responsible for the killings – one of the worst abuses to be committed in Iran – should be prosecuted and tried before a regularly and legally constituted court and with all necessary procedural guarantees, in accordance with international fair trial standards."
Justice not yet served
The massacre of 1988 remains to be one of the darkest stains on the recent history of mankind, as one of the least exposed and discussed.
Some human rights experts have described it as the greatest crime against humanity in the 20th Century following World War II that has gone unpunished.
It is the darkest irony of this very dark episode, that of all its human rights violations the Iranian regime has been most successful at keeping the 1988 killings a secret from the international community and even from many Iranians. By now, virtually everyone knows of the reign of terror that immediately followed the Islamic Revolution, the Iranian government's assassination campaign abroad, and the "Chain Murders" that targeted opposition intellectuals and activists in the late 1990s. Tragically, however, there is very little public awareness of the 1988 executions.
Not only has there been no prosecution of the criminals who orchestrated and carried out that summer's gruesome murders, but the regime continues to deny that they even occurred.
The Iranian regime continues to deny the 1988 elimination of opposition prisoners. None of the perpetrators or masterminds have been brought to justice and none of the regime's senior officials including the current Supreme leader, Ali Khamenei, have been held accountable.
The pervasive silence of the past 28 years should be shattered. The UN should launch an independent investigation into one of the most hideous crimes against humanity after the Second World War.